What Happens After a New CEO Takes Over?
by

Sharmi Duncan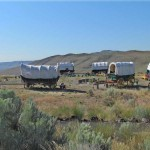 As soon as our new CEO, Ron Dairy, took over the reins, the vice presidents immediately began circling their wagons. It was no surprise. They did not operate as a unit, but now that there was new leadership in place they knew it would be better to work together than against one another. Our company was in trouble, underperforming, over-leveraged, and missing revenue and EBITDA targets, and each of them had their own opinion about why. Senior management was responsible for leading our organization. They were also responsible for our failures, and very soon, each of them would be answering for the company's dire condition. Accountability would take on real meaning.
When there's turnover at the top, expect it other places as well. Be it through resignation or firing, when there's a new sheriff in town, some changes are inevitable: expect turnover and expect the new guy to bring in his own people.
When Ron Dairy came on board it wasn't very long before the turnover started, and the first to go came as no surprise. When a private equity group (PEG) owns the business, there's only so much forgiveness when it comes to financial performance. The first target: the VP of Sales. And the organization was hungry for it to happen. Our VP of Sales, Ken Smith, was a real gem. He sold in all kinds of new customers and programs, we developed all kinds of new products, and we bought all kinds of inventory. All this was based on his superior sales-driven forecasting. The problem was the programs never succeeded. We'd get a huge initial order and then the inventory would sit in our warehouse and in the stores. It was the same story over and over. Eventually we would either have to buy back the inventory or give up mark-down money so our customers could move the goods from their shelves. On a recent trip to an office products retailer, we found products still on the clearance rack from four years ago!
So Ken had to go. Beyond Ken's sales failures, his personal indiscretions and abusive management style were a cancer in the organization. Not only were there multiple complaints of inappropriate behavior and advances on female employees, he was great at stabbing people in the back and never being held accountable for his mistakes. He was impervious to accountability. It became even more difficult to manage the business when he started seeing the Director of International Sales. She was responsible for a fledgling program whose failure was costing the organization money. We would provide costly value-add services during production without increasing the customer's price, we would produce sample-size orders rather than our factory minimum-order quantities. We basically had to do whatever she asked. It was our job to "support her," regardless of the fact that these programs were resource and revenue killers. It was a constant battle between departments. He resigned within four months. It was a victory for many. He had been an untouchable, and now he was gone.
With Ken gone, there seemed to be some hope. Maybe our new leader was going to have a positive impact. The pressures on the VPs continued, and soon went beyond senior management and straight into my office. The impromptu meetings with Mike became more frequent. Mike would share Ron's e-mails with me, we'd talk, I'd address the issues, and then he'd reply to Ron's message. We worked together to educate, inform, and defend our domain. Ron was good about following the chain of command, so I had very little interaction with him. But as the demands on Mike grew, it bothered me that I was not developing a direct relationship with Ron. Soon, it appeared that my performance was in question, yet none of it was directed at me. Rather, it was filtered. Not good. Having worked my way up through the ranks to become a respected leader and top performer in the organization, I couldn't believe that my job would be in question.
Regardless of the issues that Ron questioned, regardless of Mike's fears and what he told me was happening, I held my ground and did what I had always done—my job. Things went from tense to very tense. We knew that something was going to have to give. The play, though, came suddenly, and was the opposite of what we had discussed. We had vowed to stick together and stand our ground. Then overnight, something changed. The next morning, Mike walked upstairs, threw his resignation on Ron's desk, and like that, he was gone. We had put together a solid plan, but in the end, Mike was a proud man and made his decision alone. After almost a decade of working together and building the organization, he was gone.
Within a year and a half, we had all but erased an entire management level. Just one VP remained. The rest were gone, and Ron started rebuilding his powerhouse team—a classic play in corporate America. The new guy always brings in some of his own people. It started with our new EVP (Ron's former boss), who then filled in the gaps throughout the organization, starting with the hiring of a new international sales manager. Next came the EVP's daughter for domestic sales, then a son in marketing, and even his father. All the while, I had no boss. Just like when I'd started with the company, I found myself in limbo, reporting to no one… for now.
And that, too, would change. As time progressed, I kept doing what I'd always done—my job. I earned the promotion I'd been seeking, and joined the ranks of senior management, where I would report directly to the CEO. This marked a new phase in my career, one from which I would learn many lessons.
What happens when you're working for the CEO and your relationship is through e-mail only? I'll tell you about it soon.