The Growth of
E-Commerce
Part 2
In the previous article, we started our discussion about the Material Handling and Logistics U.S. Roadmap trend on the growth of E-Commerce. Today we continue our examination of the history of the trend, and how that is changing the face of commerce.
The Army of Ants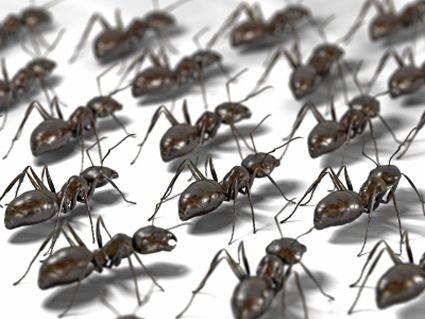 As the financial crisis spread, so did website hosting, pushed by companies like Rackspace and GoDaddy.Com. Now people could rent an operating website for a few hundred dollars a year. Companies like GoDaddy focused on making the process as simple as possible, bundling the domain management, hosting, IT, and development processes into easy-to-use websites.
Open source development, starting with the deployment of the LINUX operating system, ushered in a new wave of inexpensive software solutions developed by groups of volunteers, not by big corporations. Wordpress, the open-source blogging system, opened a world of commerce supported by advertising. Bloggers, people who could write well enough about subjects of popular interest, used the free system to develop their own publishing platforms. If a blogger attracted enough readers, they could start to monetize their efforts by placing advertising on their sites. Other developers created software modules that enabled the non-technical blogger to make their site appear unique, and helped the blogger optimize the chances that search engines like Google would show their site at the top of a search list.
As more people left formal employment in the next few years, many of them launched small e-commerce sites to create new careers catering to an entirely new marketplace. The low-cost website, preloaded with site-building software, helped launch thousands of small e-commerce sites. Now small artisans could expand beyond their local markets. Artists, crafters, potters, photographers, painters, musicians, and a whole host of talented people broke free of traditional markets. Inexpensive web hosting is the market disruptor for many traditional models of goods and services distribution, allowing a small business to market products directly to consumers on a global stage. In fact, the internet allows their potential audience to come to them.
As the first decade of the 2000s ended, internet hosting sites started to develop dedicated operations to provide storefront services to the growing market of small B2C retailers. Like the services that simplified blogging, these services helped new small-business owners quickly develop storefronts, shopping baskets, and secure credit-card purchase systems. Sites like Shopify, Magento, 3dcart, and Volusion offered complete SaaS models for the small business creating their site. As these sites grew, they developed interfaces to small business accounting like QuickBooks, credit-card clearing like Authorize.net and PayPal, and order management and inventory applications like Fishbowl and Lettuce — both SaaS solutions.
The Explosion of Outsourced Fulfillment
While most of the very small e-commerce operators chose to operate their own fulfillment, the middle-sized players drive the growth of third-party fulfillment services.
Except for the few pure dot-com survivors like Amazon, and the companies that had existed as mail-order houses before the late 1990s, most dot-com survivors fought to reduce the sunk costs of their operations. One way was to outsource the stock-keeping and fulfillment process to third-party logistics operators (3PL). Old-line public warehouse operators quickly expanded their capabilities to provide fulfillment services, and new 3PL operators launched operations dedicated to e-commerce fulfillment.
By offloading the fulfillment process, e-commerce operators avoided large sunk-cost investments in warehouse, equipment, and systems. They also unloaded the labor cost burden of supporting staff when the business generated insufficient order volume to support the minimum staff requirements. 3PLs could offer an economical solution by creating multi-tenant operations. Some companies, like Global Sports International (which became GSI, and now is eBay Enterprise), offered existing consumer-product and retail companies a complete package, including website development, inventory management, and fulfillment.
More traditional integrated logistics 3PL operators, both global in scope (like Exel, UTi and DHL) and regional (like Wagner Logistics), invested in storage and picking fixtures, packaging, and systems to provide a level of inventory control and order management the mid-tier e-commerce players needed. These integrated 3PL providers offer a complete logistics execution package, enabling the e-commerce operator to outsource their entire physical supply chain operations, including inbound, receiving, storage, picking, packing, and shipping. By combining multiple client operations into the complete flow, the 3PL offers a form of managed logistics collaboration, reducing costs for e-commerce operators and improving earned profits by the 3PL.
One of the largest global 3PL e-commerce fulfillment providers, Amazon.com, is also one of the largest global e-commerce companies. Fulfillment By Amazon is just one of the support platforms that Amazon offers. Amazon now offers small businesses a selling platform, fulfillment platform, and website development platform; it offers a complete e-commerce package (website, with secure credit card clearing, fulfillment, and shipping) and web hosting options. This site, We Are The Practitioners, is hosted on an instance in the Amazon Web Services (AWS) data centers. There is a value to the small e-commerce company greater than the transactional cost of the services. Site owners often talk about how their sales and revenues are higher through Amazon than through their own web sites.
Multi-Channel Into Omni-Channel
In the first pass, dot-com phase of e-commerce, retailers looked at online retail as another channel of business. Retailers like Toys-R-Us, Borders Books, and others built separate supply chains to support direct-to-consumer sales platforms. The first iterations built dedicated internet businesses with dedicated distribution facilities, dedicated inventory, and even dedicated sku mixes with different skus for traditional retail and internet-based businesses. Even when the physical distribution shared the same physical platform, the early retail adopters set up separate businesses for the e-commerce part of the business.
Some retailers did not even operate their dot-com sites. US-based sporting goods chains like Modell's, Dick's, and Sports Authority signed royalty agreements with Global Sports International. Under these agreements, GSI operated the web site, owned the inventory, and collected the revenue, paying the retailer a percentage of the revenue generated by the enterprise. It was not unusual for a shopper to find the exact same item on all three retailer dot-com sites for the same price.
This bifurcated approach to operating different channels confused and frustrated consumers. Consumers could return online purchases only to the website operations, not to the retailer's traditional outlets. Even when a retailer offered the same item in the stores and on the website, the prices could be different. Few retailers offered pick-it-up-at-the-store options for their web customers.
In the past few years, this trend has started to change, as more retailers recognize inventory duplication waste. Some retailers are working on ways to integrate processes in traditional retail operations, to take advantage of the B2C web-based channels to win more customer loyalty. Nordstrom's put its store associates on the store floor with tablets in their hands, enabling them to close sales transactions from anywhere in the store. The associate can enter customers' orders for store out-of-stocks from the e-commerce operations, delivering the product to the customer's home while honoring the sale price, and waiving shipping and handling charges. Other retailers, like Kohl's, offer shopping kiosks for customers to order products not in the store, but their sites do not honor in-store promotions or waive shipping and handling charges.
Shipping and Handling Differentiators
Most online purchases involve an extra charge for shipping and handling. Many sites offer free shipping when a customer's order exceeds a set amount, like $25. Some sites offer free shipping all the time, while some, like Amazon, offer free two-day shipping as a one-time-fee, premium service.
For some consumers, the cost of shipping and handling will kill an order in the shopping cart when they realize the cost of placing the order online is more than the cost of going to the store and making a direct purchase. The smaller the order value, the more sensitive consumers are about shipping costs. According to research by the Direct Marketing Association, more than 70 percent of consumers compare the total cost of a product, including shipping and handling charges, when they compare sellers. Online shoppers say excessive shipping charges is the primary reason they abandon their shopping carts before buying.
Some consumers are much more sensitive to the timing of the delivery than the cost of the shipment. This is much more than the time it takes the site to fulfill and ship the order to the consumer. Some e-commerce companies are now experimenting with time-of-day delivery windows, using private carriers or internal delivery fleets for an additional fee.
Fear of theft is another factor in consumers' minds. The typical parcel delivery to the consumer's doorstep provides an opportunity for thieves to pilfer the package. While this is an issue inside the city limits of major cities, suburban consumers who suffer from repeated package theft have started to install security cameras to capture thieves. During the 2012 Christmas season, videos started to appear of rival parcel carriers stealing packages delivered by the competition, like this one of a UPS driver's alleged theft of a package delivered by FedEx.
To help overcome the fear of theft, Amazon started a delivery locker program in September 2011 in New York, Seattle, and London, and continues to build out the program. Partnering with 7-Eleven, Amazon lockers allow consumers to direct deliveries to a secure locker for pick-up at the customer's convenience.
Growing and Growing
Forrester Research projected online retail would represent 10 percent of all retail purchases by 2017, up 2 percent from 2013. In actuality, e-commerce only accounted for 9 percent of retail, still a significant growth. While this sounds like a small increase, the annual compounded growth rate is 9 percent. Part of that growth is from traditional retailers investing in and implementing more e-commerce options for the consumer, and part of the growth comes from the increase in the number of e-commerce sellers.
Perhaps the biggest trend in the growth is consumers' increased use of mobile computers, tablets, and smart phones to browse and make purchases. The Amazon Fire tablets, and now the Amazon Fire Phone, make seamless mobile shopping more available. Traditional retailers report that consumers are openly shopping online with mobile devices while looking at the same product in the stores. Where this used to be simple price comparison, some retailers now are observing consumers using their phones to make online purchases from competitors while standing in the aisle.
According to the US Roadmap report, over 178 million people will research on line before making a purchase, no matter the source of the purchase. Of that group, 83 percent will make the purchase online.
E-commerce will continue to grow, placing more competitive pressure on brick-and-mortar businesses, and on the supply chains that support e-commerce. Fulfillment time is no longer measured by the day, but in hours and minutes. The typical e-commerce order is only one line item, which pressures distribution centers to develop more efficient order management and picking methods. E-commerce pushes inventory policies to carry more SKUs with lower movement, driving new inventory stocking methods and strategies.
As e-commerce grows and consumer expectations increase, e-commerce operators continue to face increasing fulfillment performance pressures. With this growth, e-commerce gets more difficult, not easier.