The Changing Workforce
July 17, 2014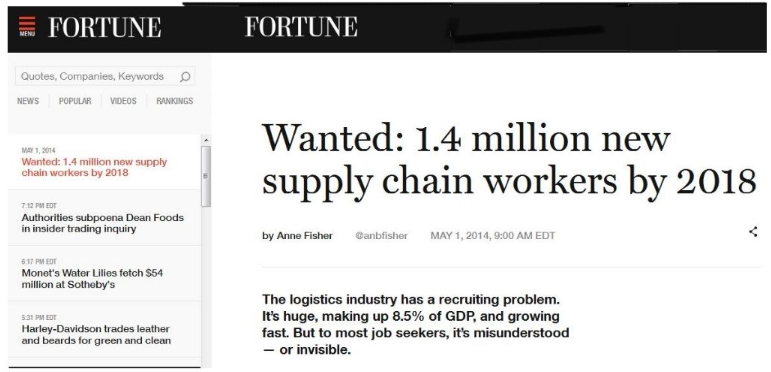 If you haven't heard by now, the workforce is changing. The baby boomers are retiring and the millennials don't want to work in warehouses. The truck driver shortage is going to get worse as the drivers (whose average age is 56), retire, and the millennials don't want to drive trucks. The headlines are breathless, proclaiming that by 2018 we are going to need 1.4 million new workers for the supply chain.
Not to sound sarcastic, but this is not a new problem. Logistics, supply chain, transportation, warehousing — all these industries are redheaded stepchildren to manufacturing and office jobs. Mind you, there are already over 10 million people who work in supply-chain related fields (2010 BLS data). Still, warehouses are not the first place parents think of as the employment future of their children. You could take that old country/western song and alter the lyrics — "Mommas, don't let your babies grow up to be truck drivers" — for an accurate description of what many parents think about the basic jobs in the industry.
Looking at the Bureau of Labor Statistics (BLS) data, Truck drivers make up about 35 percent of the total supply chain/logistics workforce, and warehousing accounts for about 38 percent of these jobs. The rest is a mix of clerical, technology, accounting, management, and administrative jobs, with ship captains and railroad engineers mixed in. There is a reason why most people think of truck driving and warehouse jobs when they think of a career in supply chain and logistics; the majority of the jobs in the industry are in those two areas.
Manufacturing gained huge productivity increases over the past 40 years as automation replaced skilled manual machine operators with engineers and technicians. The rush to offshore manufacturing (and now the returning tide of re-shoring and near shoring) altered the labor landscape in manufacturing. A key point to remember about automation of manufacturing: fewer people now make more stuff. Logistics did not gain productivity like manufacturing. Warehouses, for the most part, still operate as they did in the 1980s. Yes, there are better computer systems, and workers use portable and wearable computers to complete their tasks, but the workers are still going to locations in warehouses and picking product.
What about robotics in the warehouse? How about the gains that come from automation, like sortation conveyors and Automated Storage and Retrieval Systems? I won't argue that machines are more productive when measured by local metrics like units per hour. However, automation requires serious volume to support the investment costs. The investment requirement of automation, when compared to the cost of labor, sometimes makes economic justification impossible. Even while the cost of the robots drops, and the capabilities of the robots increase, the apparent low cost of labor makes these systems unattractive to most operations.
If we look at trucking, the basic job remains the driver behind the wheel. Yes, we innovated with technology to improve the utilization of the driver. Yes, trucks grew in length and capacity to carry more products. But here in the US, a truck can only carry about 45,000 pounds of freight. As the economy grows, as we consume more goods, and as freight tonnage increases, we must have more truckloads moved. More truckloads means more drivers. Until we come up with a way to automate the operation of a truck, or a way to teleport products, the number of drivers our logistics networks needs is a function of the tonnage of goods shipped.
Image
I find this subject gives me a bit of a feeling of déjà vu.
I first wrote about the issue of image and attracting people to the logistics industry in 1994, when I worked for an engineering firm. The client had decided to build a distribution center in the middle of nowhere and then wondered why they could not attract people to come to work in the operation. At the time, the operation had earned a reputation for hard work. In the summer it was hot in the warehouse, and in the winter it was cold. The work, picking pieces of hardware and replacement parts, required little thinking but lots of handwork. Management focused on pieces-per-hour productivity, tracking every employee and counseling those who did not meet their high expectations. Turnover was in the 80% range.
A few years ago a number of reporters attempted to give Amazon a black eye. News reports out of Allentown, Pennsylvania about heat-related injuries in the Amazon fulfillment centers in the Lehigh Valley presented the company in a negative light. There was a heatwave in the Northeast at the time, and other warehouses in the area had experienced heat-related issues. Still, reporters from the Allentown Call took Amazon to the woodshed. Not long after, a reporter from Mother Jones took a job as a temporary employee in another Amazon facility, reporting on what she thought were poor working conditions.
Did Amazon's bad press hurt the image of logistics as a career? I doubt it, just as I doubt that any harm was done by episodes of Undercover Boss about Oriental Trading and Family Dollar. In fact, the unaired clips highlight the challenges of the warehouse operations.
In this clip, an Oriental Trading employee talks about how difficult picking product really is, and how Undercover Boss CEO Sam Taylor did not make the grade …
Or how Sam Taylor did not keep up on the loading dock. Here the CEO gets a load of what it take to load one of Oriental Trading's outbound shipments.
In this clip from the Family Dollar episode of Undercover Boss, former Family Dollar COO Mike Bloom finds out how hard it is to operate one of the end rider pallet trucks in the distribution center. In the clip, Bloom is "fired" by the training supervisor because he can't master the operations of the pallet jack. This foreshadowed events to come; Family Dollar eventually let Bloom go as COO. "Ultimately, Mike and I were not aligned on our merchandising strategy, and we decided to make the change," said CEO Howard Levine.
Management Gap Paradox
Physical labor is just one of the workforce issues. However, the shallow labor pool for warehouse employees, while challenging, is not as dire a situation as the search for qualified management.
Tenured managers in place today are products of the operations they worked early in their careers. A 50-year-old manager with a college degree did not get that degree in Warehouse Management or Logistics Management, for a number of reasons:
First, few if any colleges offered degree programs in Logistics or Warehouse Management. A few universities, like Penn State and the University of Tennessee, offered degrees in transportation. Michigan State started offering a Logistics program in the late 1980s. Still, most universities did not offer such programs. If a warehouse manager over the age of 50 has a college degree, it is just a likely to be in Biology as Business.
Second, most senior logistics managers lack a college degree from a four-year program. Some have associate's degrees, but for the most part older managers in warehousing or transportation lack college educations. While many of the largest companies require their executives and top managers to hold degrees today, that requirement is a recent trend.
On the lower end of the age spectrum, many new managers do have degrees, but lack practical experience to back up their educations. These college graduates often have little interest in warehouse operations because they do not see a warehouse supervision role as an entry point into the management stream.
There is a paradox in the management career path in many logistics operations. Companies started requiring college degrees for management positions, sometimes extending the requirement even to floor supervisors. Some companies exercise common sense and use the phrase "college degree desired" when advertising for these entry-level manager positions, so not to exclude qualified internal personnel, but the appearance of a requirement ceiling exists. Meanwhile, college graduates with domain-relevant degrees tend to see the floor supervisor position as unacceptable. This creates a gap in the supply of qualified entry-level managers.