Freight Cost Reduction – Regional Cross-Dock Consolidation
by

Mike Starling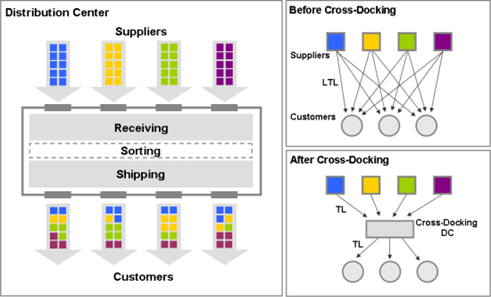 If you are in control of the inbound LTL and truckload shipments from your vendors and you are looking for a way to reduce your inbound freight costs, you might consider a regional LTL-to-truckload cross-dock consolidation strategy.
Typically you need to have sufficient LTL volume moving from a specific geographic region to a DC or plant destination in another geographic region. Start by taking a look at the frequency and size of inbound LTL shipments in order to estimate the number of truckload shipments that could potentially be created outbound from a cross-dock location within a specific geographic region.
Next, calculate the potential expense reduction on inbound freight, assuming all inbound LTL within the region now ships short-haul LTL to a specific regional cross-dock location (you pick the location). Then, calculate what the current freight expense is for the long-haul LTL from this region to the DC or plant in the other region. Subtract the estimated short-haul LTL freight expense total from your current long-haul freight expense total to see estimated savings.
Then, calculate the freight expense for the equivalent LTL consolidated into truckload shipments from the cross-dock consolidation location to the DC or plant in the other region.
Finally, to calculate the potential freight expense savings, subtract the estimated truckload freight expense from the short-haul LTL savings achieved. If the number is still positive, then a regional cross-dock consolidation strategy may make sense.
If you find your initial calculation does not yield savings, you then have to consider whether you have the ability to generate more inbound LTL from within the designated region. One way is to consider inbound vendor freight term conversion from prepaid to collect. Another is to adjust the size or location of your defined origin geographic region.
Regardless, seeking experienced help defining both the strategy and tactics will speed up the process and produce tangible results sooner. The savings to be had will far outweigh the cost of the expertise purchased.