Bit o' History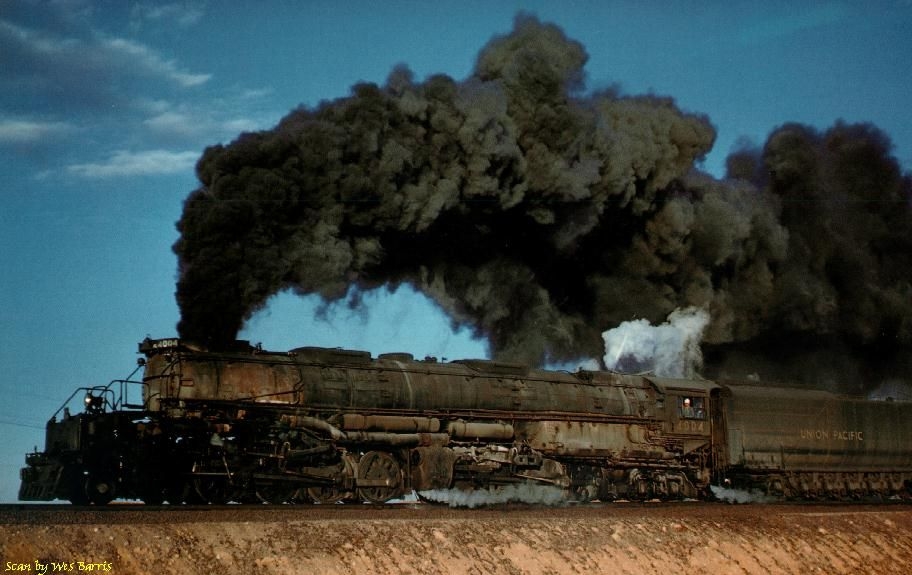 While some find it fun to watch multiple unit sets of diesel locomotives haul freight trains, there are some who can still remember the pounding of the big steam. The biggest and most powerful were the Union Pacific monster 4000 class Big Boys. By far the largest, with a combined weight of locomotive and tender of 1.25 million pounds and a total length of over 132 feet, these steam engines pulled wartime freight up and over the UP's Sherman Hill in Wyoming.
Able to pull 3,600 tons of freight up the .8% grades of the UP mainline in Wyoming and the Westbound 1.14% grade over what the UP called the Wahsatch, the Big Boy could haul over 90 freight cars at a steady 45 mph. A hungry and thirsty brute, the locomotive would consume most of the 30 tons of coal and 22,000 gallons of water it carried before it completed its journey. Designed to burn the low-quality Wyoming coal from local railroad-owned mines, these locomotives exceeded the designed power and pulling capacity of 3,600 tons. Near the end of their lives, most trains exceeded 4,400 tons over the 1.14% Eastbound grade, over 110 train cars unassisted.
There is a reason for this walk down memory lane, which we will get to later. For now, enjoy the video below and the story of the Big Boy.