Here, Beer and Everywhere
by

Sharmi Duncan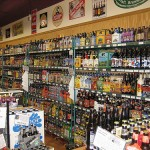 I love watching new trends and emerging industries. They start as a blip on the radar, perhaps a new product you sample at the grocery store. Then you hear the buzz—that same product is talked about on the news or in the papers. It starts to become familiar. And before you know it, the product is everywhere. And right now that's exactly what's happening in the craft beer industry.
How big is the US beer market? According to the Brewers Association web site (www.brewersassociation.org), the US Beer Market was down 1% in 2010, with approximately $101 billion in sales. Yet at the same time, craft brewing is experiencing strong growth: 11% by volume and 12% in dollars in 2010. With a retail dollar value of an estimated $7.6 billion, up from $7 billion in 2009, this industry is making an impact on our economy in more ways than one.
Here are some other interesting facts from the Brewers Association:
⦁ Craft brewers currently provide an estimated 100,000 jobs in the US, including serving staff in brewpubs.
⦁ Growth of the craft brewing industry in 2010 was 11% by volume and 12% by dollars compared to growth in 2009 of 7.2% by volume and 10.3% by dollars.
⦁ Craft brewers sold an estimated 9,951,956 barrels* of beer in 2010, up from 8,934,446 in 2009.
⦁ Overall, US beer sales were down 2.2% in 2009 and imported beer sales were down 10% in 2009 and up 5% in 2010.
⦁ The craft brewing sales share in 2010 was 4.9% by volume and 7.6% by dollars.
⦁ For some or all of 2010, 1,753 breweries operated, the highest total since the late 1800s.
* 1 barrel = 31 US gallons
Why do I care about beer? I'm the Logistics Lady; I see a developing trend and I watch it.
I watch it because I know of the challenges and the art that's taking place behind the scenes. I've spent my career building organizations from the bottom up –managing everything about day-to-day operations and building initiatives from scratch. When I see the trend emerging I think about the people who are making it happen. I know of the growing pains and struggling to produce enough product, managing a warehouse operation that's never dealt with retail compliance requirements, organizations that outgrow their facility, having to define new processes to support the growth—all challenges (and opportunities) that come with a growing business. And that's not all. I care about beer because it's impacting my community.
Today Tampa and the surrounding area is home to quite a few breweries and two of the newer home-grown breweries. Cigar City Brewing (www.cigarcitybrewing.com) and Cold Storage Craft Brewery (www.coldstoragecraftbrewery.com) are growing like crazy! I've watched as their distribution grows --their products added to the shelves in Publix, sold in quick shops and served up at neighborhood restaurants all over Tampa. These folks were a blip nine months ago, then the buzz picked up…and now they are everywhere! And as they continue to grow their market, I know the challenges they face, so I'm keeping my eye out because it's my passion and it's my community!