Thanksgiving Traditions:
They Call It Turkey Day Back Where I'm From
by

Sharmi Duncan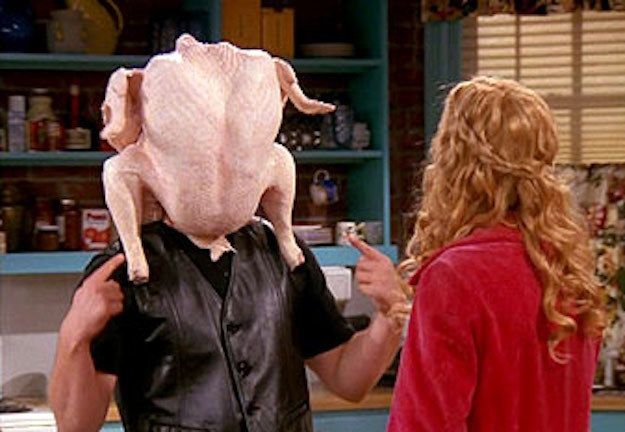 November is a special time of year—food, friends, family, and festivities. That time of year is riddled with tradition.
Every year as the holidays approach, I'm amused that it's called the "most wonderful time of the year." For many people I know it's anything but. It really should be called, "the time of year that's supposed to be the most wonderful time of the year."
It starts in October, when folks get stressed out by the first holiday tradition. They know it's coming. They go through it every year. It's that famous question. The question that they've known the answer to for months, but have avoided for as long as possible, so as to not piss off anyone. November rolls in and then the hammer gets dropped: "So where are you spending the holidays this year?" Married couples fear this question. They dread having to answer it and deal with the "family holiday visit plans." My sister and her family do the traditional (and politically correct) thing every other year. One year with our family. One year with the in-laws. It's safe.
One of the oldest holiday traditions is the annual Kirkwood-Webster Groves Turkey Day football game. The term "Turkey Day" encompasses much more than football. The weeks leading up to it are packed full of festivities. There's the Friendship Dance, which is held every year as a gesture of friendship between the two schools, the hall decorating contest, Tacky Day (when you wear the rival team's colors to school), and Spirit Day. There's an all-school pep rally and an even bigger pep rally and bonfire the night before the game. And then there's the game itself, when thousands of people converge on campus, reconnect with old classmates, and cheer on their team in hopes of either keeping or winning back the Frisco Bell. Turkey Day in Kirkwood is loaded with tradition.
And if you're a supply chain professional (or if you work in retail) then it's time for the annual holiday push tradition. Year after year, grocery store shelves are stocked heavy with cream of mushroom soups, cranberry sauce, gravy, and turkeys. Liquor stores load up on gift packs. Retail stores are adorned with holiday decorations and the hottest "must-haves" for Christmas. And Christmas music and commercials are everywhere.
It is a supply chain holiday, the culmination of sales, promotions, purchasing, production, imports, delivery deadlines, holiday delivery schedules, ramping up inventory, seasonal packaging, holiday assortments, and new products. So what does all that hard work we logistics people do for the holidays add up to?
Take a look at some of these interesting Thanksgiving statistics from the USDA National Agricultural Statistics Service:
248 million: The number of turkeys raised in the United States in 2011. That was up 2 percent from the number raised during 2010. In 2010, turkey production was valued at $4.37 billion.
750 million pounds: The amount of U.S. cranberry production in 2011. Wisconsin was expected to lead all other states in the production of cranberries, with 430 million pounds, followed by Massachusetts (210 million). New Jersey, Oregon, and Washington were also expected to produce substantial cranberry crops, ranging from 17 million to 54 million pounds.
2.4 billion pounds: The total weight of sweet potatoes produced by major sweet potato-producing states in 2010. North Carolina produced 972 million pounds of sweet potatoes, more than any other state.
1.1 billion pounds: Total production of pumpkins in the major pumpkin-producing states in 2010. Illinois led the country by producing 427million pounds of the orange gourds. Pumpkin patches in California, New York, and Ohio produced at least 100 million pounds each. The value of all pumpkins produced by major pumpkin-producing states was $117 million.
656,340 tons: The 2011 production of snap (green) beans in major snap green bean-producing states. Of this total, Wisconsin led all other states in green bean production (258,320 tons). Many Americans consider green bean casserole a traditional Thanksgiving dish.
$7.8 million: The value of U.S. imports of live turkeys from January through July of 2011, 99.7 percent of which came from Canada. When it comes to sweet potatoes, the Dominican Republic was the source of 60.1 percent ($3.2 million) of total imports ($5.3 million). The United States ran a $3.6 million trade deficit in live turkeys during this period, but had a surplus of $41.7 million in sweet potatoes.
$1.38: Retail cost per pound of a frozen whole turkey in December 2010. Source: U.S. Bureau of Labor Statistics
116.7 million: The number of households in the nation—all potential gathering places for people to celebrate the holiday. Source: U.S. Census Bureau, 2010 Census
And how does all this stuff get from the farms to the stores to your table?
Logistics.